Crochet Winnie the Pooh -free crochet pattern
Please follow and like us: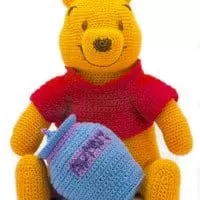 Finished size: 7′ tall (sitting)
MATERIALS
Bedspread Weight Cotton Thread (size 10);
Gold- 285 yard*
Brown – 5 yards
Steel crochet hook, size 9 (1,40 mm) or size  needed for gauge
Potyester fiber fill
Tapestry needle
GAUGE: 20 sc and 20 rows – 2'
Gauge  Swatch 2′ square
Ch 21
Row I: t Sc in second ch from hook and in each ch across: 20 sc.
Rows 2-20: Ch I, turn. sc in each sc across.
Finish off.
STITCH GUIDE
DECREASE
Pull up a loop in next 2 sts or next 2 rows. YO and draw through all 3 loops on hook (counts as one sc)
FRONT LOOP 2-SC DECREASE
(abbreviated FL 2-sc decrease)
Pdl up a loop in Front Loop Only of next 2 tc (Fig. 4. page 2). YO and draw throuth al
4 loopt on hook (counts as one sc)
FRONT LOOP 3-SC DECREASE (abbreviated FL 3-ac decrease)
l\j| up a loop In Front Loop Only of next 3 sc (Fig. 4, page 2). YO and draw through all
4 loopt on hnok (counts as ont sc)
Work tightly when decreasing or skippmg a stitch or row throughout.
All description you can download below: Download
See also another free patterns for knitted and crochet toys
Don't miss new pattern knitted woman jacket
If you enjoyed this article, subscribe to receive more just like it

Don't forget to confirm your subscription (if you don't find our  message in your inbox, check your Spam folder)