Knitted Blue hat with lace cable pattern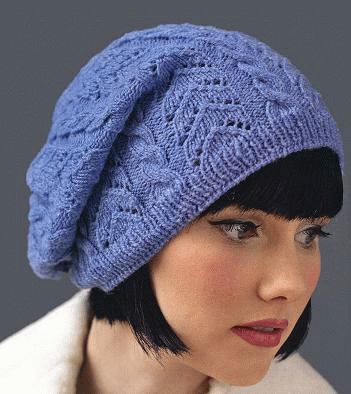 Knitted Blue hat with lace cable pattern [fblike] WE'VE ALL GOT those odd balls of yarn in our stash that were "just calling to you". Yarns you just had to buy, but with no firm design in mind. Does this sound familiar? Well, if you're looking for a great pattern to put your yarn to good use, then this hat design, using a chevron lace stitch interspersed with cabling, is the perfect choice. It uses the tubular cast-on method, which is lovely and stretchy for a comfy fit.
Kirstie McLeod, the designer, tells us:
"I really wanted to come up with a cosy hat pattern, something that's interesting to knit but also that would be fairly speedy!
I had some Jamieson and Smith Jumper Weight yarn left over from another project, so I figured this would be the perfect way to use it up."
We've given you some ideas for other 4ply yarns you could use (right) and it would make a great gift knit, especially as it's the sort of shape that suits so many people. So get hunting through your stash and cast on the perfect lace stashbuster.
SIZE
One size – head circumference up to 54cm
YARN
Jamieson and Smith 2ply Jumper Weight (Knits as 4ply) (100% Shetland wool; 118m/25g balls)
Shade FC15; 3 x 25g balls
NEEDLES & ACCESSORIES
1 set 3.75mm (UK 9/ US 5) circular needles, 40cm long
1 set of four 3.75mm (UK 9/ US 5) double­pointed needles (optional)
Cable needle (cn)
Small quantity waste yarn
TENSION
28 sts and 40 rows to 10cm over cable and lace pattern using 3.75mm needles
LACE AND CABLE PATTERN
Over 21 sts and 8 rows.
Rnd 1: P3, K6, P3, yo, SI 1, Kl, psso, K5, K2tog,yo.
Rnd 2 and all even rounds: P3, K6, P3, K9.
Rnd3: P3, K6, P3, Kl, yo, SI 1, Kl, psso, K3, K2tog,yo, Kl.
Rnd 5: P3, K6, P3, K2,yo, SI 1, Kl, psso, Kl, K2tog,yo, K2.
Rnd7: P3, C6F, P3, K3,yo, Sll, K2tog, psso.yo, K3.
Rnd8: P3, K6, P3, K9.
HAT
Using some waste yarn and 3.75mm circular needle or DPNs work a tubular cast on as foils:
Cast on 73 sts. Join to work in the round and work 5 rounds in st st.
Change to the main yarn and work 4 more rounds in st st.
Next rnd: 'Kl, yf, pick up the loop of main yarn, from the first row, between the 2 waste yarn sts and purl it, yb; rep from * to the end of the round. 146 sts.
Next rnd: *K1, PI; rep from * to end. Continue working a lxl rib as set above for 9 further rounds, inc 1 st at end of last round. 147 sts.
Remove waste yarn from cast-on edge.
Start to work lace and cable pattern (from chart or written instructions), repeating motif 7 times each round.
Continue until 96 rounds have been worked in pattern (12 repeats).
Rndl: *P2tog, PI, K6, P3,yo, Sll, Kl, psso, K5, K2tog, yo; rep from * to end of round. 140 sts.
Rnd 2: *P2, K6, P3, K9; rep from" to end. Rnd3: *P2, K6, P2tog, PI, Kl, yo, SI 1, Kl, psso, K3, K2tog, yo, Kl; rep from * to end of round. 133 sts.
Rnd 4: *P2, K6, P2, K9; rep from * to end of round.
Rnd 5: *P2tog, K6, P2, K2, yo, SI 1, Kl, psso, Kl, K2tog, yo, K2; rep from * to end of round. 126 sts.
Rnd 6: *P1, K6, P2, K9; rep from * to end of round.
Rnd 7: *P1, C6F, P2tog, K3, yo, SI 1, K2tog, psso, yo, K3; rep from * to end of round. 119sts.
Rnd8: *P1, Kl, Sll, Kl, psso, K3, PI, K9; rep from * to end of round. 112 sts.
Rnd9: *P1, K2, K2tog, Kl, Pl,yo, Sll, Kl, psso, K5, K2tog, yo; rep from * to end.
105 sts.
Rnd 10: *P1, K4, PI, Sll, Kl, psso, K5, K2tog; rep from * to end. 91 sts.
Rnd 11: *P1, K4, PI, Sll, Kl, psso, K3, K2tog; rep from * to end. 77 sts.
Rnd 12: *P1, K4, PI, Sll, Kl, psso, Kl, K2tog; rep from * to end. 63 sts.
Rnd 13: *P1, Sll, Kl, psso, K2tog, PI, K3; rep from * to end. 49 sts.
Rnd 14: *P1, K2, PI, Sll, K2tog, psso; rep from* to end. 35 sts.
Thread yarn through sts and secure. Weave in all loose ends. Hand wash and re-shape while wet.
SPECIAL ABBREVIATIONS
C6F: SI 3 sts to cn and hold at front, K3 and then K3 from cn
YARN SUBSTITUTION
When substituting a yarn, remember that you need to use something that will knit to the same tension, and you will need the same total length of yarn for the pattern. For this hat, you will need approx 300m of 4ply yarn.
Other yarns that you may like to try include: Fyberspates Sheila's Sock (100% superwash merino; 365m/100g skeins) 1 skein needed Debbie Bliss Rialto 4ply (100% extrafine merino; 180m/50g balls) 2 balls needed Artesano Alpaca 4ply (100% pure superfine alpaca; 184m/50g balls) 2 balls needed Stylecraft Life 4ply (75% acrylic, 25% wool; 450m/100g balls) 1 ball needed
CHART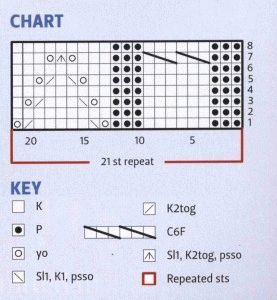 See more free knitting patterns for women
Don"t miss new free knitting pattern  knitted woman sweater
If you enjoyed this article, subscribe to receive more just like it

Don't forget to confirm your subscription (if you don't find our  message in your inbox, check your Spam folder)