Judoka- lunch bag-free knitting pattern
Judoka- lunch bag-free knitting pattern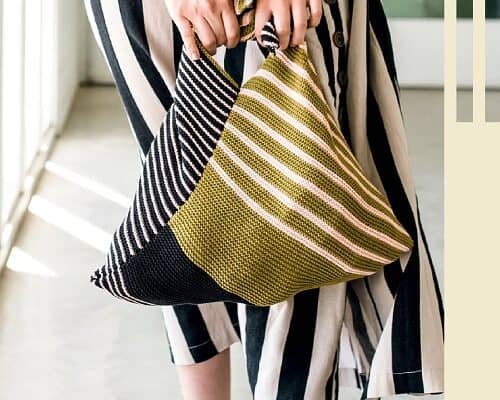 Shaped like the traditional Japanese lunch bag (azuma bukuro or bento bag), this hyper-functional project
bag calls to mind the badassery of the Japanese women's judo team. Until last year, female judoka were
banned from wearing a black belt in Japanese competitions. They were required to wear black belts with a white stripe (signifying lower rank) long after the practice was deemed discriminatory and forbidden in international
competition. Having outperformed their male counterparts ever since women's judo became an Olympic
sport, however, public interest in the charismatic female judoka became so great that the Japanese regulatory
body finally capitulated. Knit white stripes (or not!) knowing you do so entirely by your own choice and savour the historic success.
Sizes: 1 (2, 3)
Finished width at base: 28 (35, 42) cm / 11 (13¾, 16½)"
Finished height: 28 (35, 42) cm / 11 (13¾, 16½)"
Yarn:  100% organic cotton; 160 m / 175 yds per 50 g ball)
Gauge: 29 sts & 54 rows = 10 cm / 4″ over Garter stitch on 3 mm needles before blocking.
Note: For this pattern, row gauge is important since it will dictate the final length of the piece, which must be
three times as long as it is wide. If you are unable to match the row gauge, in the central section there are
instructions to correct the length if needed.
Needles: 3 mm / US 2.5 needle
Always use a needle size that will result in the correct gauge before blocking.
Notions: Tapestry needle
Notes: The bag is knit flat in one piece in Garter stitch to form a rectangle that is then folded and sewn on two sides
to create the bag shape. If preferred, carry the yarns up the edge of the piece when working the thin and thick Stripe
Pattern sections.
Download description and charts (pdf file) for  woman knitted bag Judoka
See also Knitted handbag "Chicot"
If you enjoyed this article, subscribe to receive more just like it

Don't forget to confirm your subscription (if you don't find our  message in your inbox, check your Spam folder)