Ethical jumper-knitting pattern
Ethical jumper-knitting pattern
Take a look at this knitted youth jumper made of eco-friendly yarn!
This time we're looking at ways to lighten our impact on the planet with a collection of knits made
from locally sourced, recycled and sustainable.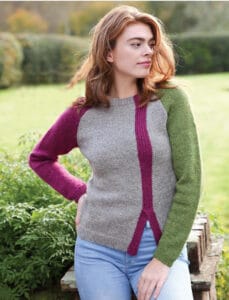 SIZES
To fit: UK 8[10:12:14:16:18:20:22] 81[86:91:97:102:107:112]cm
(32[34:36:38:40:42:44:46]in)
Actual measurement:
84[89:95:101:107:110:116:122]cm
Length to shoulder:
56[57:58:59:60:61:62:62]cm
Sleeve length: 43[46:46:46:46:47:47:48]cm
Figures in square brackets refer to larger sizes: where there is only one set of figures this applies to all sizes.
YOU WILL NEED
Baa Ram Ewe Winterburn DK 50%
Bluefaced Leicester, 25% ecru Masham, 25%
dark brown Masham (approx 230m per 100g)
3[3:3:3:4:4:4:5] x 100g skeins in Yorkstone (A)
2[2:2:2:2:2:3:3] x 100g skeins in Rhubarb (B)
1[1:2:2:2:2:2:2] x 100g skeins in Chevin (C)
3.5mm and 4mm needles
4 stitch holders
Row counter
Note: Yarn amounts given are based on average requirements and are approximate
TENSION
21 sts and 29 rows to 10cm over st st using 4mm needles.
Use larger or smaller needles if necessary to obtain correct tension.
Download description and charts for this knitted woman jumper
in PDF file! Pdf file includes a masterclass for  THREE–NEEDLE JOIN technique!
by Jo Allport Download
If you enjoyed this article, subscribe to receive more just like it

Don't forget to confirm your subscription (if you don't find our  message in your inbox, check your Spam folder)