Short cardigan -free knitting pattern.
Short cardigan -free knitting pattern. Simple  but very  stylish  short cardigan with a sleeve 3 \ 4 for women.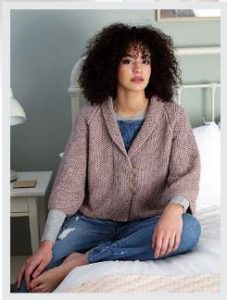 SIZES
To fi t: UK 6-8[10-12:14-16:18-20:22-24:26-28] 76-81[86-91:97-102:107-112:117-122:127-132]cm
(30-32[34-36:38-40:42-44:46-48:50-52]in)
Actual measurement:
89[99:108:121:130:139]cm
(35ј[39:42ѕ:47Ѕ:51ј:55]in)
Length to centre back (excluding
collar) approx: 54[56:57:58:60:61]cm
(21ј[22:22Ѕ:23:23ѕ:24]in)
Sleeve length: 30cm (12in)
Figures in square brackets refer to larger sizes: where there is only one set of figures this applies to all sizes.
YOU WILL NEED
Rico Essentials Alpaca Blend Chunky 50% acrylic, 30% wool, 20% alpaca (approx 90m per 50g)
9[9:10:10:11:11] x 50g balls in 09 Dusky Pink
5mm and 6mm needles
Stitch holders
3 buttons from Duttons for Buttons
Row counter
Note: Yarn amounts given are based on average requirements and are approximate.
TENSION
17 sts and 22 rows to 10cm over m st using 6mm needles.Use larger or smaller needles if necessary to obtain correct tension.
Designed by PAT MENCHINI
Download description and charts: Download
If you enjoyed this article, subscribe to receive more just like it

Don't forget to confirm your subscription (if you don't find our  message in your inbox, check your Spam folder)