Ski sweater-knitted sweater for baby
 Ski sweater-knitted sweater for baby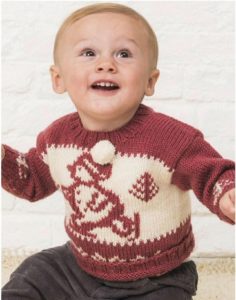 Cast on Jane Burns's fabulous fair isle sweater for maximum winter appeal this season – it's ideal for babies going on their first snowy holiday!
Look cool as can be on the ski slopes… or in your local park! Jane Burns has designed the most wonderful sweater with a winter wonderland theme. A sporty snowman skis through tree-lined snow, wearing
a bobble hat complete with a pompom. There are snowflakes, too, and it's all worked in fair isle.
If you're nervous about fair isle, you could Swiss darn the detail on instead – follow the same charts for whichever method you choose.
About this yarn
King Cole Merino Blend DK,100% pure new wool 104m per 50g, Machine wash at 30°C
Notes
The sweater is worked from the top up in the round until you reach the armholes. When working the snowman chart you may find it easier to Swiss darn the details on. The pompom and scarf are sewn on at the end. If you find that when you switch from stranded knitting to plain stocking stitch you have a difference in gauge, adjust your needle size.
Sizes:  for  0-6 mths 6-12 mths 12-18 mths 18-24 mths 2-3 years
Sweater
You will need
■ King Cole Merino Blend DK, 50g in:
Rose Hip (shade 3091) x 3 (4: 4: 5: 5)
balls – A
Aran (shade 46) x 1 (2 ,2 ,2 ,2 ) balls – B
■ 3.25mm (UK 9/10, US 4) knitting needles
■ 4mm (UK 8, US 6) knitting needles
■ 3.25mm (UK 9/10, US 4) circular needles
■ 4mm (UK 8, US 6) circular needles
■ 3.25mm (UK 9/10, US 4) double-pointed
needles (DPNs
■ Tapestry needle
■ Stitch markers
■ Stitch holders
■ 1 button, 1cm (%in) diameter
Tension
■ 22 sts x 30 rows to 10cm (4in) over st-st
using 4mm (UK 8, US 6) needles
Download descriptions and charts for ski sweater-knitted sweater for baby Download
You also might like CROCHET  WINNIE POOH -FREE CROCHET PATTERN
Don't miss new knitting pattern jumper for babies
If you enjoyed this article, subscribe to receive more just like it

Don't forget to confirm your subscription (if you don't find our  message in your inbox, check your Spam folder)