Striped waistcoat for babies-knitting pattern free
Striped waistcoat for babies-knitting pattern free
For a gorgeously traditional knit, try soft and stylish striped waistcoat  knitting pattern free. Ideal for sunny skies and warm days.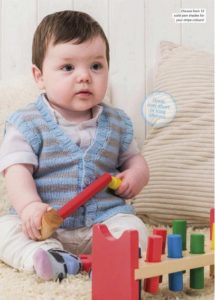 Give baby a treat with the soft , stripy waistcoat, knitted in West Yorkshire Snipper's Bo Peep Luxury Baby yarn.
Pattern used pastel colours for this summery knit, but you can choose from 18 shades in the range. This
traditional but stylish design works well over t-shirts or long sleeves, and is even smart enough for a wedding or a
royal garden party! If you've never tried stripes before, this is a great place to start.
About this yarn
Bo Peep Luxury Baby DK
52% wool, 48% nylon
112m per 50g
Machine wash at 40 *
Top Tip: Use a gentle wool detergent to wash this waistcoat and keep it in good condition
You will need:
You will need
■ Bo Peep Luxury Baby DK, 50g in:
Sailboat (114) x 2 balls – A
Tin man (305) x 1 ball – B
■ 3.25mm (UK 10, US 3) knitting
needles
■ 3.25mm (UK 10, US 3) knitting
needles
■ 4mm (UK 8, US 6) knitting needles
■ 1.25cm buttons x 3 (3: 3: 4: 4)
■ Stitch holder
Measurements
■ See sizing guide
Tension
■ 22 sts and 28 rows to 10cm (4in) over st-st, using 4mm (UK 8, US 6) knitting needles

Striped waistcoat for babies-knitting pattern free
Note Following the rib, the main part of the waistcoat is worked in a simple colour stripe pattern: 4 rows yarn B, followed by  4 rows yarn A.
Do not break off the yarns when working the stripes, but carry the non-working yarn loosely up the side of the knitted piece.
Back
Using 3.25mm (UK 10, US 3) needles and yarn A, cast on 50 (54: 58:58: 62) sts. Row 1 (RS) K2, *p2, k2; rep from * to the  end of the row.
Row 2 P2, *k2, p2; rep from * to the end of  the row.
Rows 1 & 2set the pattern for 2×2 rib. Work 3 (3: 5: 5: 7) more rows in 2×2 rib as  set.
Work 1 more row, dec 0 (2: 3: 0: 1) sts evenly along row. 50 (52: 55: 58: 61) sts
Do not break off yarn A, join in yarn B.
Change to 4 mm (UK 8 US 6)
Beg knit, work in st-st, working 4 rows yarn B, 4 rows yarn A until work measures 11 (12.5: 13.5: 15.25: 16.5)cm from the beginning, ending on a purl row.
 Download  discription and charts  for Striped waistcoat for babies-knitting pattern free
  See also knitted clothes for babies
Don't miss new free knitting pattern Hooded knitted sweater for kids 
If you enjoyed this article, subscribe to receive more just like it

Don't forget to confirm your subscription (if you don't find our  message in your inbox, check your Spam folder)